THE DILEMMA
Students who are late to class lose the benefit of instruction, disrupt classes, and interfere with lessons in progress and with other students' opportunities to learn.
Research indicates that students will continue to be late to their classes until they realize that this behavior will no longer be tolerated. The dilemma clearly becomes, how do we focus on these students and how do we track their repeated infractions, while handling their disciplinary actions.
THE SOLUTION
With this in mind, we have created an efficient tardy/discipline-tracking system, the Tardy Calculator©, that has the necessary tools that will enable your campus to pin-point problematic areas that need to be addressed. The systems' tools allow you to solicit parent and staff involvement by putting the students, parents and teachers on notice; all at the time of the infraction. Using the Tardy Calculator© will provide your school with the means to enact a firm and consistent school tardy policy which gives immediate notification to students and parents of their sanctions. It has a proven track record in helping schools make a dramatic decrease in their tardies. The Tardy Calculator© can help your school achieve these same results.
The Tardy Calculator© has played a key role in schools that have seen, not only a dramatic drop in their tardies, but most importantly, a change in the students behavior towards getting to class on time. These schools have also used the Tardy Calculator© as an early prevention program to detect signs of truancy.
How It Works
The Tardy Calculator© functions as the "administrator in charge" per say, allowing for more time to handle other related issues, such as the actual discipline.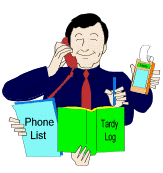 The system will track which students are being late and to which classes. Based on your campus' tardy policy, it will issue immediate notice of their disciplinary actions (consequences) at the time of infraction. The system will notify the student of their assigned date and time of their warranted disciplinary action. It will even allow you to process disciplinary actions for all other types of infractions, not just tardies.
The system maintains discipline (Detention and Suspension) rosters enabling you to determine who has or has not served their punishment. A great and must have tool for your ISS teacher!
The system offers many ways to notify parents directly of these infractions. This allows you to keep parents abreast of their child's disciplinary actions. This will also provide you with an avenue to solicit their help and involvement.
The Tardy Calculator© comes with a powerful Report Manager allowing you to analyze problematic areas. The Report Manager comes with many useful reports allowing you to focus on specific students, class periods, and much more. These reports are useful in parent conferences, court appearances and analyzing your data. Your report analysis can help correct or improve the problem, thereby reducing student tardiness and in turn increasing student attendance.
The Tardy Calculator© is a modular system designed to grow with your school. It's modules are packed with many features and benefits that will help your school effectively manage all areas related to student infractions and their discipline.
Don't delay, start using the Tardy Calculator© and take control of your tardies once and for all.
Take Preventive Action
The United States has become the most litigious nation in the world, and most of these lawsuits are directed toward schools. Increasingly, parents are holding schools accountable for the inconsistency and biased assignment of disciplinary actions for their children. Schools must take preventive actions to protect themselves from these grievances.
Don't allow your school to become a victim. The Tardy Calculator© is designed to provide efficient and effective tools that schools demand to implement a consistent automated tardy policy. The computerized assignment of standardized discipline for each student removes the liability form teachers and/or administrators, since they are no longer making the decisions on assigning the consequences. It also provides irrefutable detailed documentation that can be used in court and/or parent conferences.
THE RESULT
Punctuality enables students to achieve the maximum value of their academic program and develops a responsible habit that will have value for students in future years.
FOR MORE INFORMATION
The Tardy Calculator© is a MUST SEE FOR YOURSELF product. LET US SHOW YOU HOW WE CAN HELP! Call us now at (210) 558-0481 or visit our password protected product page to learn more. To request a password, simply complete our Info Request form.